Bossy & Family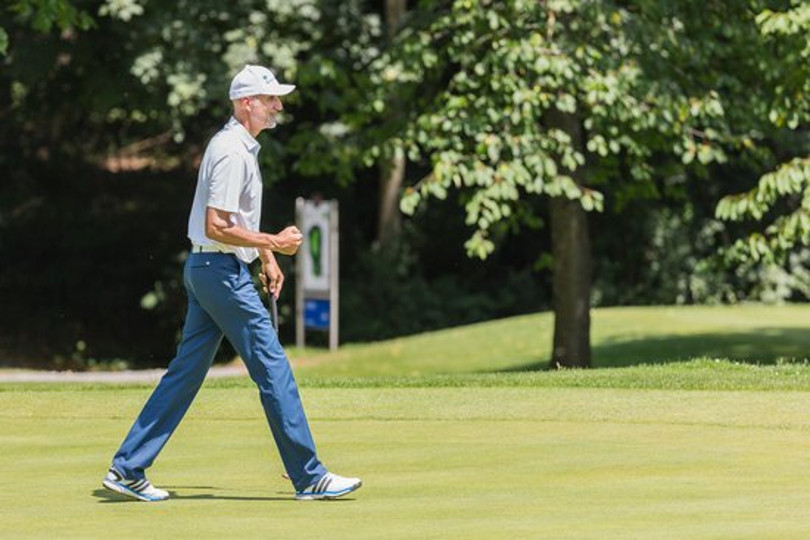 A strong team in private life: Bossy with daughter Nina and wife Bettina.
Bossy & Karl
Karl Young is more than André's caddy. As a trained Life Coach he is a great motivator and has become a very good friend.
Karl and André have had many highlights, like The Open in St. Andrews in July 2005 or going through the US PGA Tour qualification process in fall 2007.
Since André's campaign start on the Seniors Tour Karl has joined André again – a real dream team!
By the way: you can follow Karl via his tweets @TotalExistence
Bossy & Paul
The English Golf Pro Paul Dougan has been on André's side for many years with all matters refering to the technical aspects of the game.
Upon his arrival to Switzerland in the mid 1990s Paul became one of the Teaching Pros at Golf & Country Club Zurich Zumikon in Switzerland which André uses as his training base. After a few years their friendship extended to the cooperation in technical aspects of the game.
Since the 2009 season Paul has become the Headpro at Golfclub Goldenberg and has started the Swiss Golf Performance Lab with his colleague Gary Malia (Golfpro at Golfclub Bubikon in Switzerland). André is also a big fan of the key method they promote, the analysis with Golf Biodynamics.
You can find more about the Swiss Golf Performance Lab.
Bossy & Pepe
One of the keys to success in golf lies in the right equipment. André spends a lot of time testing and trying out new clubs. Once a club suits him, he has it tested again at Pepe Naula's Golfclinic in Frauenfeld, Switzerland and if needed they adjust the club's length, weight, degree and alignement to suit André's needs.
Find out more about Pepe's magical golf tool shop here.
Bossy & Jeff
Jeffrey Stern has been André's friend for many years and manager until august 2013. Since september 2013, Jeffrey supports André with his consulting know-how.
After his activities at FKG, Jeffrey set up his own management company think.tank.AG and shifted his priorities to the US market.
Jeffrey is one of those people whose enthusiasm motivates everybody. His great heart makes him foster long term friendships with busines partners "from the old days" like Marco Büchel in ski or André in golf up until today.